The First-to-Market Coffee-Based Frozen Beverages, Packed with Vitamins and Functional Ingredients are set to Launch this June
May 29, 2023 – Vancouver, British Columbia – Blender Bites Ltd. (the "Company", "Blender Bites" or "Blender"), (CSE: BITE, FWB: JL4, WKN: A3DMEJ), an award-winning Canadian company involved in the development and marketing of a line of premium, organic and plant-based pre-portioned frozen functional foods, today announced its newest innovation, 1-Step Frappé. This new addition to their product lineup is intended to revolutionize the way people start their mornings, offering a nutritious, delicious and convenient beverage packed with both essential nutrients and the energizing goodness of coffee.
Crafted with a combination of functional and high-quality organic ingredients, Blender Bites' 1-Step Frappé offers a refreshing and healthy improvement without compromising on taste. Each serving is carefully formulated to provide a morning boost, with 90mg of caffeine and a range of therapeutic benefits. What sets 1-Step Frappé apart from the competition is that it contains half the amount of sugar, calories and carbohydrates found in leading blended iced coffee drinks, making it a guilt-free indulgence for health-conscious individuals.
"We've developed 1-Step Frappé as a nutritious replacement to in-store options that offer little to no health benefits," said Chelsie Hodge, Blender Bites Founder and CEO. "Our simple and convenient frappé options were curated using a combination of functional ingredients, like collagen and Lion's Mane, and offer a refreshing and healthy improvement without sacrificing taste. Using real, high-quality, organic ingredients, our frappé has 50% less sugar and 38% fewer calories and carbs than the conventional blended iced coffee drinks currently available on the market."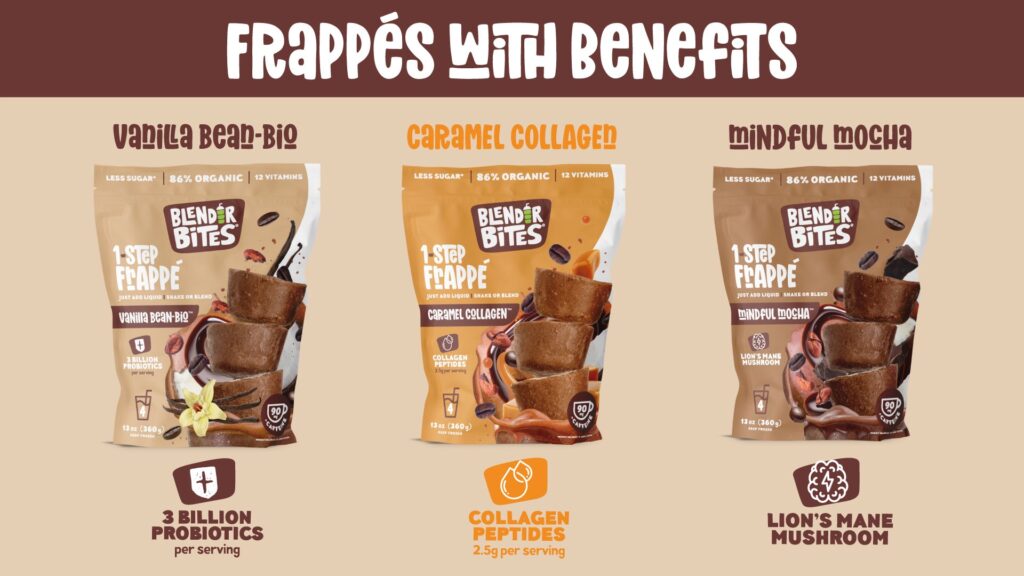 Blender Bites' commitment to quality and health is evident in all their products. All Blender Bites items, including the new 1-Step Frappé, are made with organic ingredients, and are Non-GMO, gluten-free, dairy-free, and soy-free, ensuring that individuals with dietary restrictions can enjoy their delicious offerings without compromise.
1-Step Frappé will be available in three delicious flavours designed to deliver a range of therapeutic benefits and contain 12 vitamins & minerals:
• Mindful MochaTM – featuring Lion's Mane Mushroom and Vitamin D for focus and memory support.
• Caramel CollagenTM – featuring Bovine Collagen and Biotin for skin and joint support.
• Vanilla Bean-BioTM – featuring 3 billion CFU probiotics and chia for gut support.
Blender Bites 1-Step Frappé is simple to make and contains no inner plastic – just add milk or milk alternative and blend until smooth.
For more information on nutrition facts and where to purchase, visit blenderbites.com.
ABOUT BLENDER BITES
Blender Bites is an award-winning Canadian company involved in the development and marketing of a line of premium frozen food products with a focus on functionality. Blender Bites was founded in 2016 and was first to market in Western Canada with a pre-portioned "easy smoothie" product that is free of any unnecessary inner plastic packaging. Blender Bites products are certified organic, vegan, non-GMO, gluten free, dairy free and soy free. They contain no added sugars and are made in Canada. Blender Bites products are distributed internationally across Canada and the US, and are currently sold in over 900 stores, including Sobeys, Loblaws, Safeway, Save on Foods, Real Canadian Superstore, Whole Foods Market, Buy-Low/Nesters, IGA, Thrifty and Fresh Street.
On behalf of the Board of Directors,
Blender Bites Limited
Chelsie Hodge, Chief Executive Officer
Email – chelsie@blenderbites.com
Telephone – 236-521-0626
For further information, contact Blender IR Team at:
Email – investors@blenderbites.com
Telephone – 1-888-997-2055
CAUTIONARY DISCLAIMER STATEMENT
This news release includes certain "forward-looking statements" under applicable Canadian securities legislation. Forward-looking statements are necessarily based upon several estimates and assumptions that, while considered reasonable, are subject to known and unknown risks, uncertainties, and other factors which may cause the actual results and future events to differ materially from those expressed or implied by such forward looking statements. Such factors include, but are not limited to general business, economic, competitive, political, and social uncertainties, and uncertain capital markets. Readers are cautioned that actual results and future events could differ materially from those anticipated in such statements. Accordingly, readers should not place undue reliance on forward-looking statements. The Company disclaims any intention or obligation to update or revise any forward-looking statements, whether as a result of new information, future events or otherwise, except as required by law.