July 18, 2023 – Vancouver, British Columbia – Blender Bites Limited. (the "Company", "Blender Bites" or "Blender"), (CSE: BITE, FWB: JL4, WKN: A3DMEJ), a multi award-winning Canadian company involved in the development and marketing of a line of premium, frozen functional food and beverages, is pleased to announce that one of its retail partners, the second largest supermarket chain in Canada (the "Retailer") is adding four additional Blender Bites' SKUs across their grocery retail distribution network. The additional SKUs will effectively more than double the Company's product offerings under the Retailer's Canadian banners, with the addition of the Company's latest 1-Step Smoothie & 1-Step Frappe innovations. –
The various banners under the Retailer currently carry Blender Bites' Power BerryTM, Green D-ToxTM and Liquid SunshineTM (formerly Vita Smoothie) smoothie innovations.
Now on shelves will be the above three SKU's along with the Retailer Daily Defen-CTM, Tropical GlowTM, along with the Company's latest innovation – the 1-Step Frappé innovation – in Mindful MochaTM and Caramel CollagenTM flavours.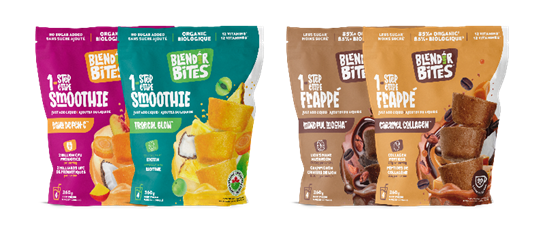 "The frozen section of a retail store is an incredibly competitive category and for Blender Bites to be continually expanding its distribution, is a major indicator that our offerings are in line with both customer and retailers expectations. We are continuing to see strong growth in the Canadian marketplace strengthening our positioning as a leader in the better-for-you frozen functional food category. We remain dedicated to building value for our shareholders, and building strong and sustaining relationships with retailers," commented Chelsie Hodge, the Company's CEO and Founder.
ABOUT BLENDER BITES
Blender Bites is a multi award-winning Canadian company involved in the development and marketing of a line of premium, frozen functional food and beverages.Blender Bites products are made with organic ingredients, non-GMO, gluten free, dairy free and soy free. Blender Bites was founded in 2016 and first launched to market in Western Canada in 2017 with a pre-portioned 1-Step Smoothie product that is free of any unnecessary inner plastic packaging. Blender Bites products are now distributed internationally across Canada and the US, and are currently sold in over 1000 stores, including Walmart, Sobeys, Loblaws, Safeway, Save on Foods, Real Canadian Superstore, Whole Foods Market, Buy-Low/Nesters, IGA, and Thrifty's.
On behalf of the Board of Directors,
Blender Bites Limited
Chelsie Hodge, Chief Executive Officer
Email – chelsie@blenderbites.com
Telephone – 236-521-0626
For further information, contact Blender IR Team at:
Email – investors@blenderbites.com
Telephone – 1-888-997-2055
Media Contact – teamblenderbites@jonesworks.com
CAUTIONARY DISCLAIMER STATEMENT
This news release includes certain "forward-looking statements" under applicable Canadian securities legislation. Forward-looking statements are necessarily based upon several estimates and assumptions that, while considered reasonable, are subject to known and unknown risks, uncertainties, and other factors which may cause the actual results and future events to differ materially from those expressed or implied by such forward looking statements. Such factors include, but are not limited to general business, economic, competitive, political, and social uncertainties, and uncertain capital markets. Readers are cautioned that actual results and future events could differ materially from those anticipated in such statements. Accordingly, readers should not place undue reliance on forward-looking statements. The Company disclaims any intention or obligation to update or revise any forward-looking statements, whether as a result of new information, future events or otherwise, except as required by law.